Description
LF07 Bluetooth Smart Watch 2.5D ARC HD Screen Support SIM Card Wearable Devices SmartWatch Magic Knob For IOS Android Phone Features: 2.5D Arc HD Touch Screen,Life Waterproof Adsorption Charge Support SIM Card (GSM), Frequancy: 850/1800/900/1900. Original Crown operation: Crown Controls Zoom in and out; Crown switches interface Multimedia Social Sync: SMS, QQ, Wechat, Gmail, Email notification, Facebook, Twitter reminder etc. Language Support :Russian , English , French , Spanish , Portuguese , Italian , Dutch , Polish , Turkish , Hebrew. Standby Time : For normal using ,it can be used for about 1 day Main functions: 4.0 Bluetooth Music,Magic sound entertainment Pedometer, Anti-lost alert, Sleep monitoring, Camera remote (can not be used with IOS),Sync SMS G-sensor: Wake-up gesture; Shaking switch mainmenu; Flip to mute alarm; Flip to mute incoming call Support : All Nucleus or IOS 7 and above or Android 4.3 and above smartphone.
Original crown operation
Crown Controls Zoom in and out
Crown switches interface
Interactive switch design.
2.5D Arc HD Screen: Ultimate Glass, LF07 adopts tempered glass lens, Scratch-proof, Shatterproof, and 360-degree Arc HD screen.
Brand New Adsorption charge:
User-friendly design, more convenient, more fashionable, much safer, charging faster.
Support SIM Card:
It can be used as an independent mobile phone once it inserted a SIM card.
You do not need to connect with your phone via Bluetooth, there will be no distance limited for using this smart watch.
There is no any screw on it, you only need to swirl the case to open it for inserting the SIM card.
Food-grade silicone strap
King of Reading Voice:
Stylish and practical voice reading feature makes LF07 unique.
it can read menu, SMS, calling number, dialing number, timekeeping, phone book, etc.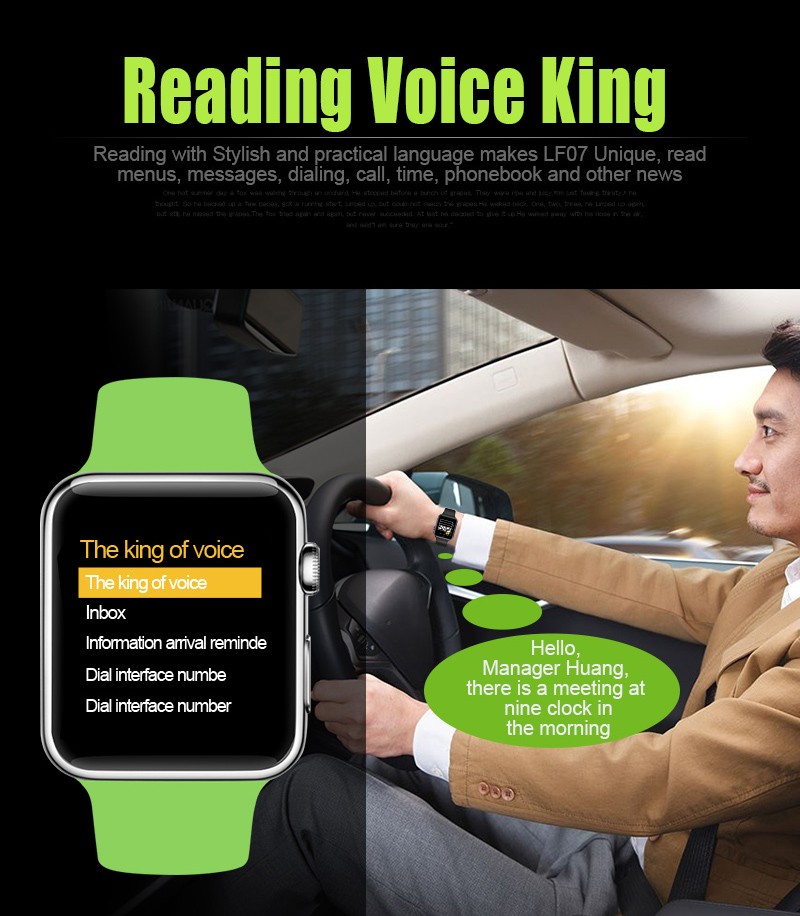 Magic sound entertainment:
It can change your voice into: Female voice, male voice, elderly voice, a child's voice, you can enjoy the transformation of your voice, surprise your friends!
Voice Interactive:
Very practical Voice Interactive function, easily voice to make call, send information, find contacts, etc.
Multimedia Social: SMS, QQ, Wechat, Gmail, Email notification, Real-Time Weather, Facebook, Twitter reminder
Camera remote(can not be used with IOS):
Suburban travel, Camping, exploration, Mountain climbing, no one can help to take photos, right? LF07 is the easy solution.
Bluetooth 4.0 Musice:
LF07 enables to remote control your phone's music, enjoy music time anywhere anytime. Bring music on your wrist.
Pedometer:
LF07 is your private health secretary. Move, let youth fly.
Sleep Monitor:
LF07can monitor your sleep quality, guarantee your healthy sleep, meanwhile, reminding you on time.
Sedentary Reminder:
70% of people is sub-health, sedentary is the main cause.
No motion of 40 minutes is sedentary, even this year, many social elite died of karoshi, we should change the unscientific way of life.
Anti-lost:
In 10-15m, LF07 can set reminder, it can easily look for phone. You also can look for watch on your phone.
Many Interfaces Available for choice, switch according to your favorite.